FILIPINO ARTIST Ted Penaflor IV
I simply want to be called just a contemporary artist who paints lightly surreal stories on canvas.
WORK EXPERIENCE EDUCATION 
Visual Artist / Painter
Back Ground Artist, TOEI Animation Philippines, Inc.
1995-2000
Bachelor of Fine Arts Major in Advertising Arts
University of the East College of Fine Arts
SELECTED DISTINCTIONS 
2019
Magazine43 Hong Kong Cover Artist and Featured Filipino Contemporary Artist (issue #6 via blurbbooks)
2018
3rd Prize Winner, 2nd Alveo Land National Painting Competition
Honorable Mention, 2nd Tarlac National Competition
2016
Finalist/ Representational Category GSIS National Art Competition
2015
Honorable Mention, Art Association of the Philippines' 68th Annual Painting Competition
2003
Grand Prize Winner, 20th Metrobank Young Painter's Annual, Water Media Category (now MADE)
2002
Grand Prize Winner, National Aztec Art Competition
2001
Honorable Mention, 1st Muntinlupa Oil Painting Competition
2000
Featured Young Artist, Development Bank of the Philippines' Calendars and Corporate Address Books
2000
UE College of Fine Arts Visual Artist of the Year
1999
3rd Prize Winner, Nat'l Students' Shell Art Competition, Oil Category
Grand Prize Winner, Bureau of Fisheries & Aquatic Resources On-Spot-Painting Contest
Grand Prize Winner, St. Scholastica's College Manila 4th On-the-Spot Painting Contest
3rd Prize Winner, Uniwide Sales Wonders of the Sea On-the-Spot Painting Competition
3rd Place, John the Baptist Scalabrini On-the-Spot Poster Making Competition
Winner, Abot-Tanaw On-the-Spot Drawing & Painting Contest
Winner, 1st Phase PLDT-DPC Telephone Directory Cover-13th Visual Art National Competition
Grand Prize Winner, 11th Annual Blood-Letting Program On-the-Spot Poster Design Contest, Veterans' Memorial Medical Center
Grand Prize Winner, On-the-Spot Watercolor Painting Competition UE 1998Foundation Anniversary
1998
3rd Prize Winner, Our Lady of La Naval & UST Painting Competition
3rd Prize Winner, Bureau of Fisheries & Aquatic Resources, On-the-Spot Painting Contest
2nd Prize Winner, 10th Annual Blood-Letting Program On-the-Spot Poster Design Contest, Veterans' Memorial  Medical Center
1997-2000
UE Exemplary Performance in the Arts, National Level Awardee
1996
3rd Prize Winner, NAPOCOR Painting Competition
SELECTED EXHIBITIONS: 
2004
Metrobank Foundation Inc. & Austrian Embassy Group Exhibit for the Benefit of SOS Children's Village Phil., Forbes Park, Makati
2009
Quarenta, UE Alumni Painting Exhibit, CCP Complex
2016
December, 3-Man Show "East Side Stories", Village Art Gallery, ATC Muntinlupa 2017 August, 1st Solo Exhibit "Sky High", Passion Arts Gallery, Art Walk SM Megamall
2017
September, Obra Filipinismo 6 Group Show w/ Kunst, DAP Gallery, Tagaytay
November, 2nd Solo Exhibit "Cloud Play", Village Art Gallery, ATC Muntinlupa
December, Group Show " Here & Now", Village Art Gallery, ATC Muntinlupa
2018
April, Art in the Park w/ Galerie Artes 
May 3rd Solo Exhibit "Unminding Visual Pollution", Galerie Y SM Megamall
Group Show, "Mist in the Realm of the Subconscious" Art Center, SM Megamall
June, Group Show "Elevate" Village Art Gallery, ATC Muntinlupa
2-Man Show w/ Ambit Mendoza "Cogitations" Got Heart Gallery, White Plains QC
Group Show " Free Reign" Passion Arts Gallery, SM Megamall
ManilArt w/ Galerie Y, SMX Convention Center, SM Aura, Taguig
Group Show, MADE Network of Winners, Le Pavillion, Pasay City
Group Show "Promises" at R Gallery, V. Luna QC
Group Show/ Yearender " Here & Now" Village Art Gallery, ATC Muntinlupa
2019
Group Show with Kambal Gallery, Hong Kong 
Group Show at Fashion Interiors, Chino Roces Extension, Makati
Art in the Park w/ Art for Space & Urban Chic Galleries and Galerie Artes
Group Show "Panata" Art Asia Gallery, SM Megamall
Manila Fame c/o Galerie de las Islas, World Trade Center
Group Show "Elevate", Village Art Gallery, ATC Muntinlupa
Group Show, "Stories from the Little Prince", Art Asia Gallery, SM Megamall
Group Show, Sentro Leona Infant Jesus Academy, Marikina
ManilArt w/ Artes Orientes, SMX Convention Center, SM Aura, Taguig
4th Solo Show 'Traverse', Art Center SM Megamall, Mandaluyong City
Pinasining: Art Asia Yearender Group Show, SM Megamall
SaloSalo Yearender Group Show J Studio Makati
Tuhog : Yearender Group Exhibit Arte Pintura, White Plains QC
Promises II – R Gallery PH Yearender Group Exhibit
Galerie Roberto Yearender Group Exhibit, Molito Alabang Muntinlupa
Secret Fresh Gallery, Magallanes Group Exhibit for a Cause
2020
5th Solo Show 'Thoughts', Village Art Gallery, Alabang Town Center, Muntinlupa
Aftermath Group Show, R Gallery V. Luna QC
Elevate Group Virtual Group Show, Village Art Gallery
2020 art+magazine's Brave New World Project via Village Art Gallery
Contact info
mobile +63915 335 5694
email: tedpenaflor@gmail.com
fb/ig ted peñaflor 
I get my inspirations from diurnal activities, my happy memories of a challenged childhood, family bonding, positive thoughts and life experiences. Having worked for 15 years with TOEI Animation Phil., got me hooked on looking up at cloud details since my trainee days way back 2 decades ago. The show 'One Piece' had a lot of clouds in every episode of it. Simple yet tricky tonal values one would not underestimate to execute to perfectly fit each scene.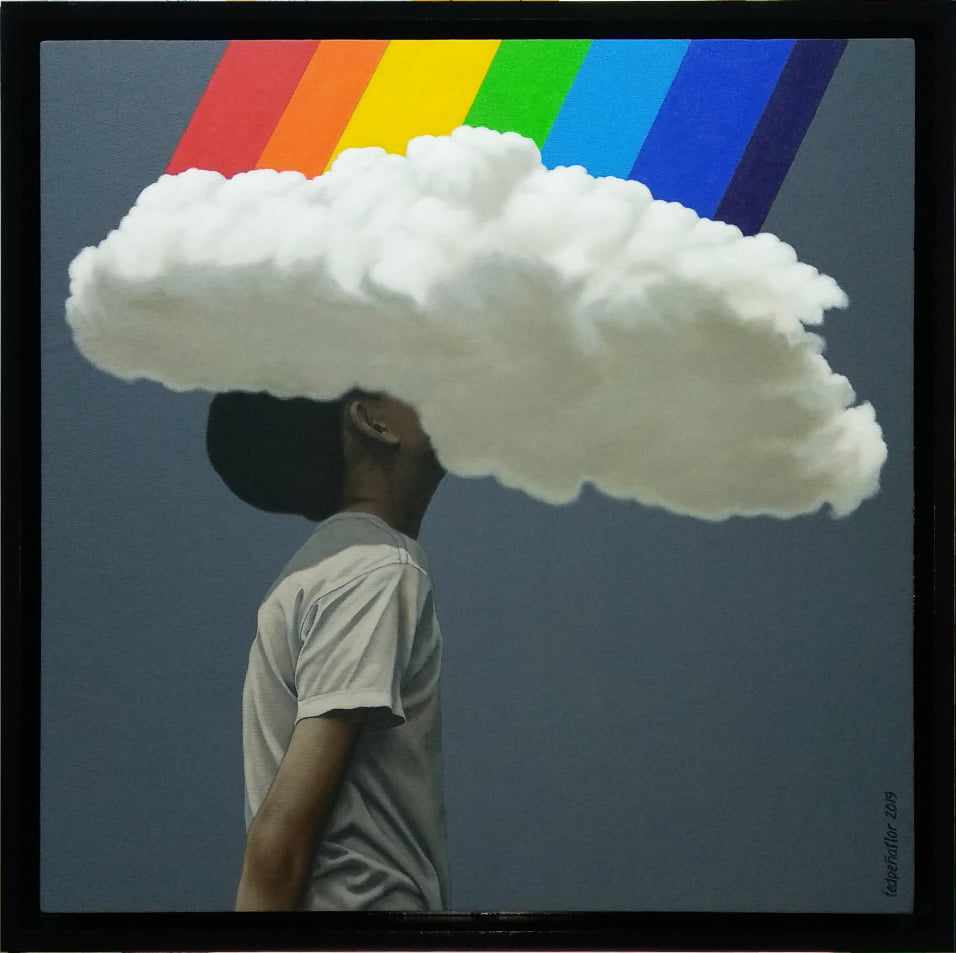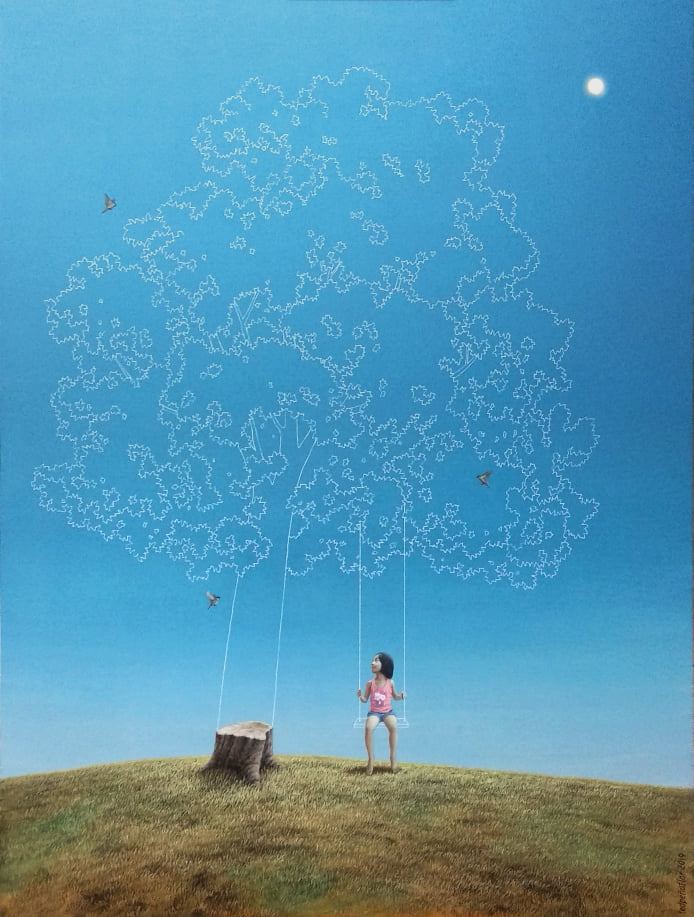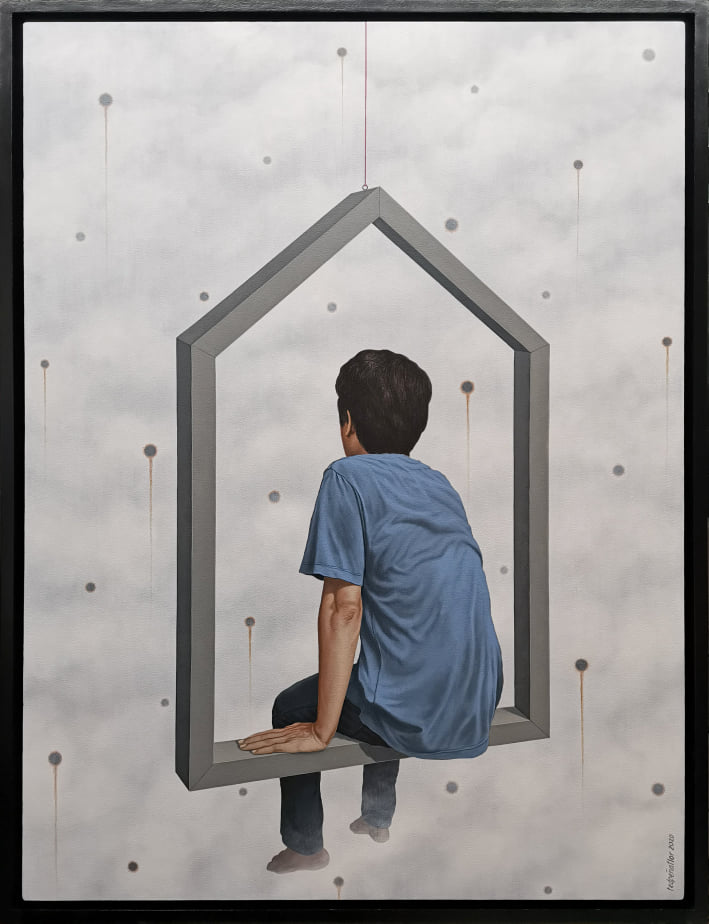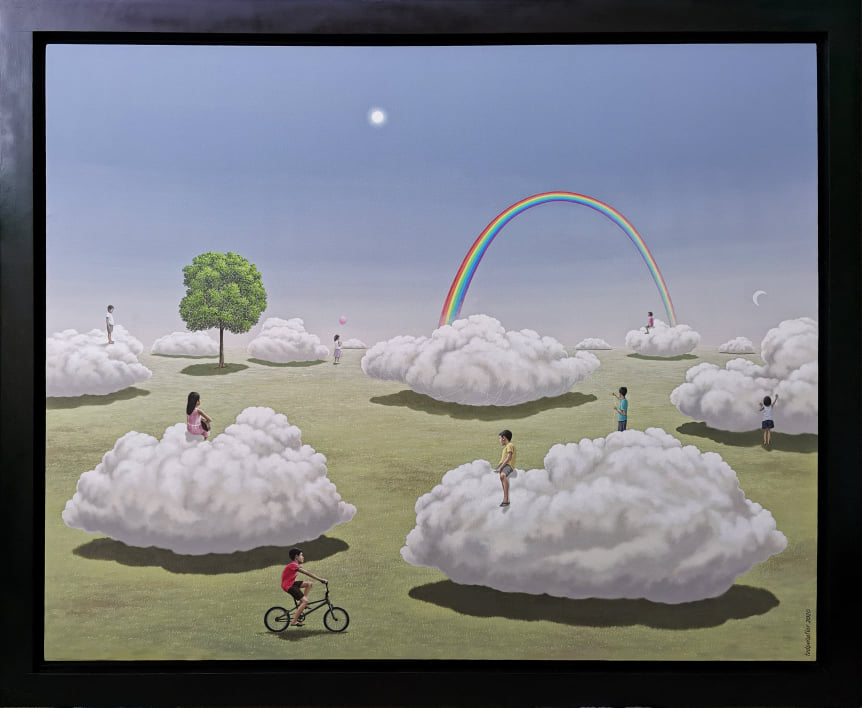 My favorite subjects are clouds, nature and my family. Clouds allow me to cogitate on positive stories when my view at eye level distracts me. Clouds encourage me to look up and be optimistic, too. It is my representation of fleeting moments that may not occur in our lives again
My paintings always had clouds to complement the stories I immortalize on canvas. No clouds are identical like every moment in our lives that inspire me to share my happy thoughts. Dark circles that seem to be bullet holes are exhaust vents. They are present in most of my pieces. My simple symbolism of everything negative in the society. But they do not overpower other elements in the paintings. I simply do not want to pollute the eyes and emotions of those who see my artworks.