FILIPINO ARTIST Nante Carandang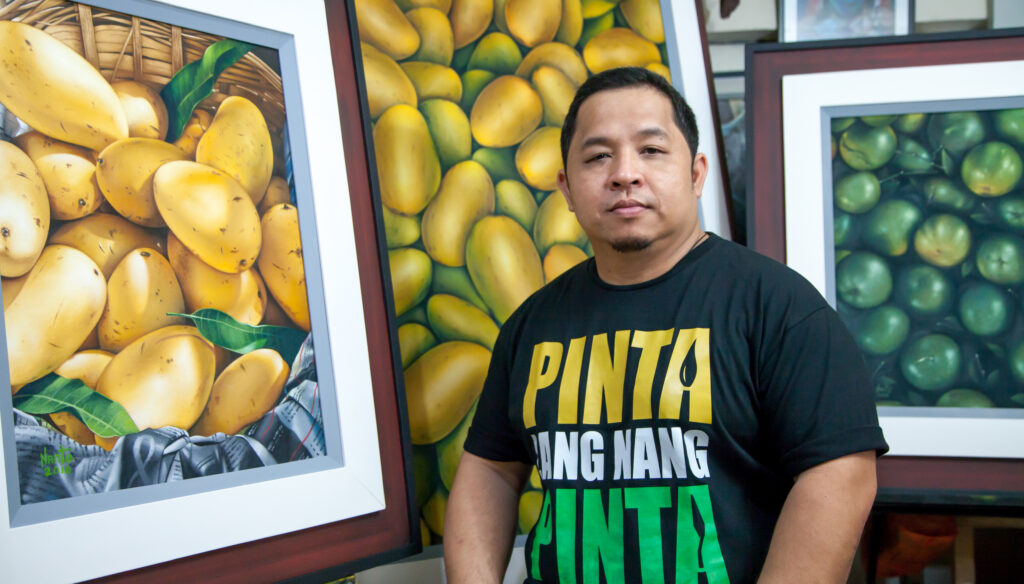 His motto "Pinta lang nang pinta!" has not only become a personal philosophy and motivator, but in the future will become a part of the psyche and heart of younger generation of Batangas artists.
"The Reluctant Kritik"
Raynante "Nante" Conception Carandang
Visual Artist from Tuy, Batangas
Born November 30, 1974, in Manila
1995
Alumnus of Far Eastern University
Bachelor of Fine Arts Major in Advertising
Affiliations
Founder
Pintor Kulapol Tuy Batangas Artists Group Inc.
PARISUKAT Artists Group Tuy, BatangasArtist
Global Artists' Creative Collaboration for Empowerment USA ( GACCE USA
Founding Member
Visual Artists Paranaque ( VAP )
Vice Chairman
Grupo Sining Batangenyo ( GSB )
Member
Art Association of the Philippines ( AAP )
KUNST Filipino Artists
GACCE USA
Awards
1992
FINALIST
FEU FINE ARTS WEEK ON THE SPOT POSTER MAKING CONTEST
1993
HONORABLE MENTION
FEUCSO ON THE SPOT PAINTING CONTEST 1995
WINNER-SCHOOL REPRESENTATIVE
PLDT DPC TELEPHONE DIRECTORY COVER ANNUAL COMPETITION      –  1997
SEMI-FINALIST
METROBANK YOUNG PAINTERS ANNUAL COMPETITION
2015
FINALIST
QUO VADIS OVERSEAS FILIPINOS PAINTING CONTES
HONORABLE MENTION
68TH AAP ANNUAL PAINTING CONTEST
2016
AWARDEE
" NATATANGING  PINUNO AT EDUKADOR NA ALAGAD NG SINING"  Bahay Kubo ng Sining Foundation Inc.
2017
2nd PLACE
JTI  Art Awards 2017 ( Japan Tobacco Inc. )
2018
AWARDEE
" DISTINGUISHED ARTIST AWARD " – GLOBAL ARTISTS' CREATIVE COLLABORATION FOR EMPOWERMENT USA.
2019
" AMBASSADOR OF GOODWILL AWARD " – GLOBAL ARTISTS' CREATIVE COLLABORATION FOR EMPOWERMENT USA.
2020
HONORABLE MENTION
HARIBON NATIONAL ART
Carandang has more than 100 group art exhibitions local and abroad and 3 solo shows under his name.
Art is always a celebration of beauty of life, of nature, and anything in between. And the works of the emerging master from the town of Tuy, in Batangas, Nante Carandang are the proof of this supposition. For on his canvas, the master had effectively caught—and contained, hence immortalized—the things that are pleasing, not only to the physical senses, but also to the mind and the soul of those who see them.
"The Reluctant Kritik"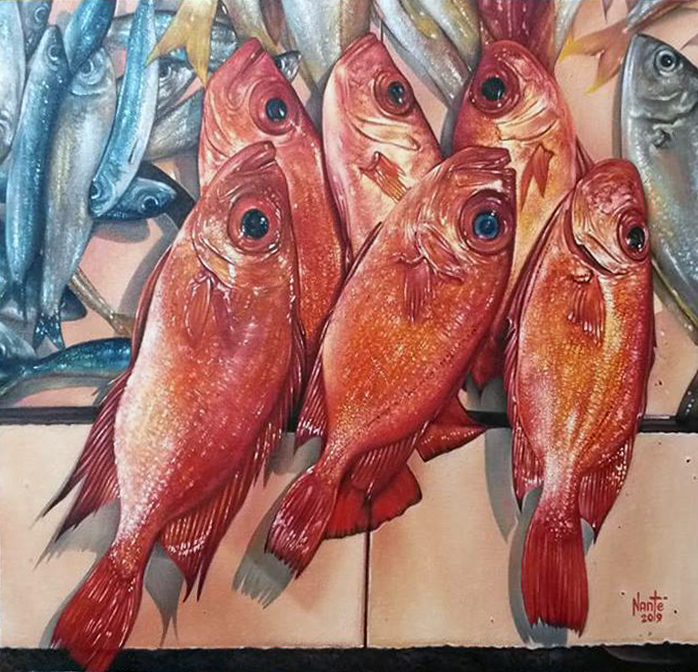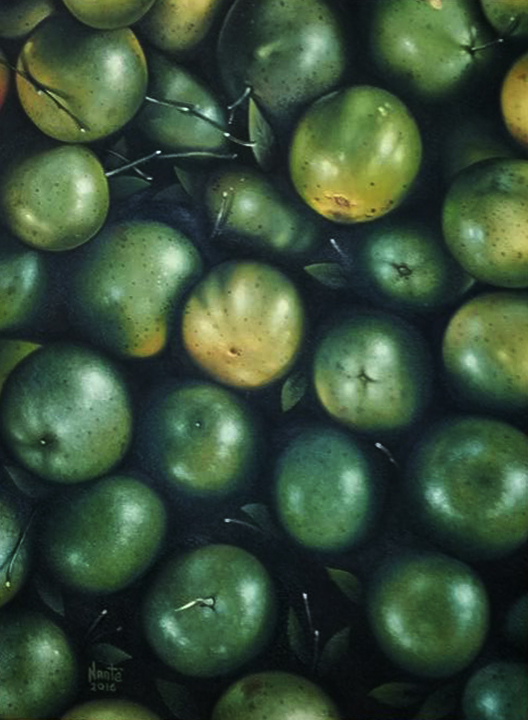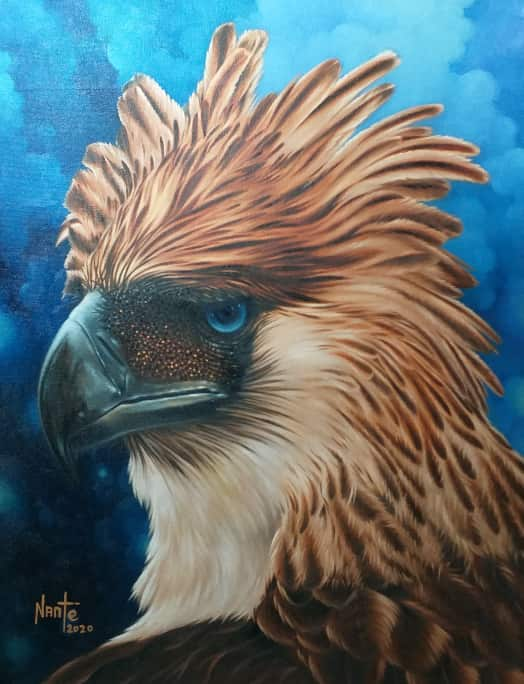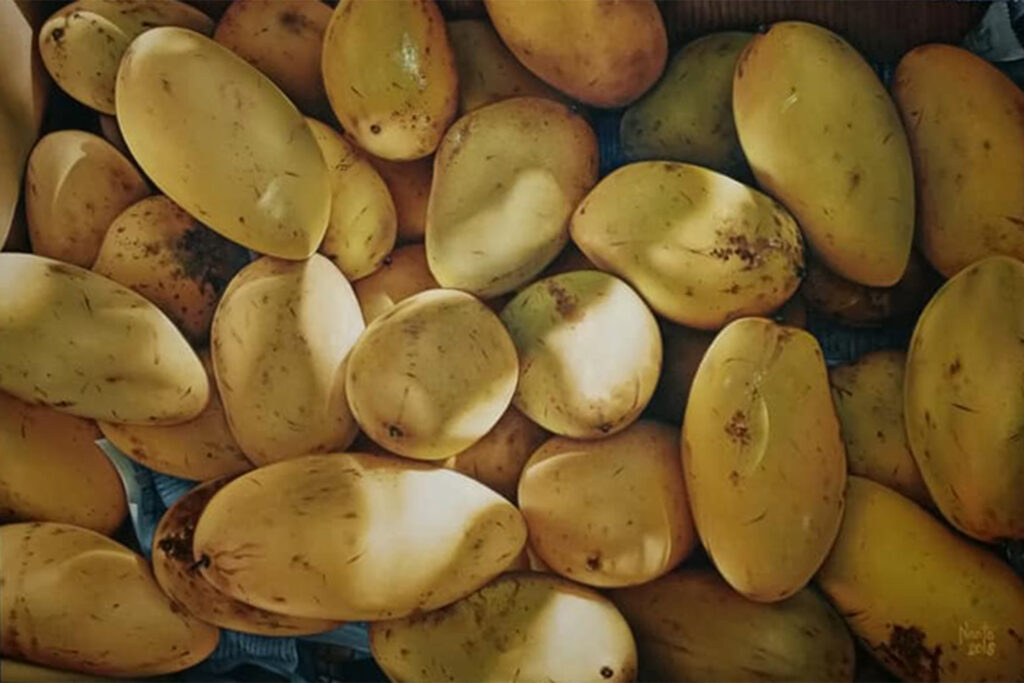 His paintings of succulent mangos (Guimaras series) and the sinturis or dalanghita (Citrus nobilis), will not only make you drool over these hyper-realistically painted fruits, but will also remind you about abundance and prosperity.
"The Reluctant Kritik"
Carandang's works are not only proof of his artistic prowess as a visual artist, but also homage to his homeland, not exclusively to Batangas, but the Philippines as a whole.
But his works are not limited to hyperrealist fruit of the land, or the fishes of the lake or the seas. He also works on varied subjects—still life, landscapes, abstracts, just to name a few. And just like the waters of the seas and the curves of the mountains of his homeland, these paintings also show such fluidity as well as solidity in terms of rendition and style.
"The Reluctant Kritik"