FILIPINO ARTIST Emmanuel Nim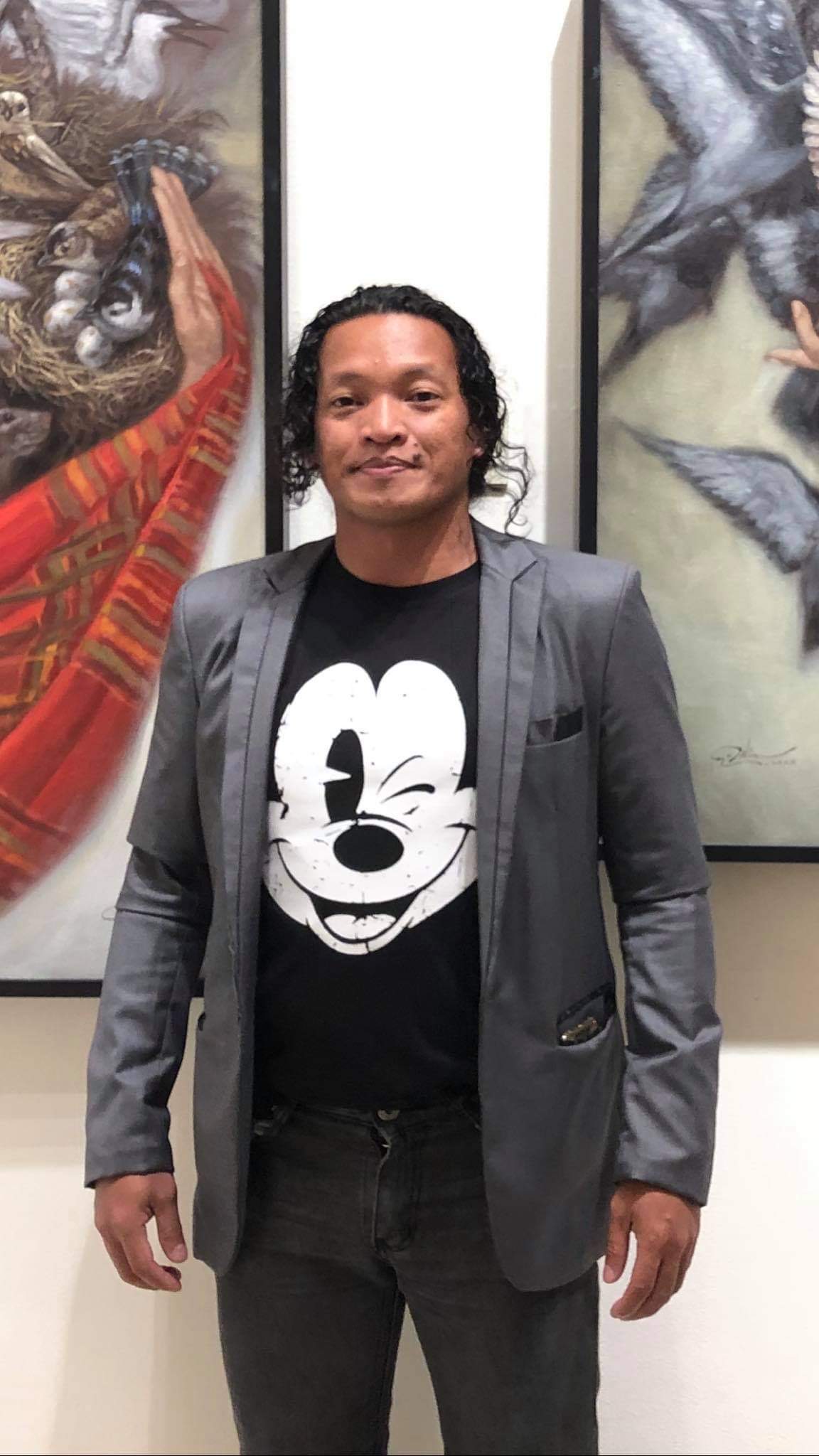 A versatile and prolific artist whose portraiture echoes his love for the human figure and its emotions and deep concerns for Mother Nature
He is a self-taught contemporary artist who was born and raised in Polomolok, South Cotabato, Philippines. He developed an interest in art and a taste for figure and landscapes at a young age. With the inspirations from the works of the old masters like Juan Luna, Amorsolo, Caravaggio, Constable, Dali, Sargent and Da Vinci. He later moved in Manila after he graduated high school and has worked as a full-time artist since then.
Emmanuel Nim has participated in numerous group art exhibits in and outside the Philippines for more than a decade. He has also won several awards including the AAP's First Nude On-The-Spot Painting Competition as the 1st placer. He is a member of Art Association Of The Philippines(AAP), KUNST Pilipino, Erehwon Art Collective and a core-member of Knights Of Rizal, Juan Luna Chapter.
In 2011, he was one of the seven selected artists to paint the "Philippine Air Force Mural". In 2015, he was one of the ten artists commissioned to paint the "Fallen SAF 44 Mural". In 2013, he was featured in a book "Revisiting Mabini Art". In December 2015, he was also featured at "DIFFERENT STROKES", a book on the ingenuity of Filipino artists and Art exhibit for a cause, featuring the works of contemporary masters and emerging artists and art groups. Another book titled, "Palettes Of Colors" was published in November 2017 again featured him and his works. And in October 2017, he was commissioned by the DAP Tagaytay to paint a mural of 9 National Artists featured in their gallery.
Professional Background
1996
Artist- Young Arts Gallery/Advertising, Polomolok,South Cotabato
1999
Artist- Ultra Advertising- Tagaytay City
2001
Artist- Asahi Art Studio- Makati CitY
2004
Artist-Blue Topaz Art Studio- Makati City-2003Artist- Ruffee Art Gallery- Manila
2012
Artist- Galerie Y, SM Megamall
2012-2018
Artist- Transwing Art Gallery
2015
Artist- G&C Art Gallery
Artist- Erehwon Arts Center
Artist- The Attic Gallery
2016-2018
Art Director- Transwing Art Gallery
Tagaytay Artists Guild, Muntinlupa Arts Society
Kasilay
Tuesday Group, Art Republic
Art Association of the Philippines (AAP)
KUNST Pilipino (P.R.O.)
EREHWON Art Collective
Knights Of Rizal (Juan Luna Chapter).
SELECTED GROUP ART EXHIBITS: 
2020
"Save The Trees Coalition" Online Exhibit
"Tanawin" Online Exibit
Art In Quarantine Fundraising Exhibit for PGH Frontliners
"She" Group Exhibit", Art Anton, Conrad Hotel,Pasay City
"Ortigas Arts Festival", Estancia Commons, Pasig City
2019
"Approximations" Group Exhibit, Art Center, SM Megamall
All We Need Is Love" (A Beatles Tribute Show), M Gallery, Pasay City
"Sanctuary" Group Exhibit, M Gallery, Pasay City
"Kasalo" Group Exhibit, M Gallery, Pasay City
"Art In The Park", Salcedo Park, Makati City
"South Arts Festival", Filinvest Tent, Alabang, Muntinlupa City
"UnARThodox @ Mirriam College, Quezon City
2018
"Iskwalado" by Galerie Anna, Art Center, SM Megamall
"Art In Biodiversity" Group Exhibit, UP Los Banos, Laguna
"Art For Everyone", SM Megamall
"Covergence" Group Exhibit, Artologist Gallery, Xavier Greenhills
"Art In The Park", Salcedo, Makati City
"Arts For Marawi", Aspace Gallery,Makati City
2017
" Tubig At Langis" Two-Man Show, Buenas Artes Art Facility, Quezon City
" Bastedor Project Group Exhibit" , Secret Fresh Gallery, Ronac Bldg. Magallanes, Makati City
"Obra Filipinismo Para Sa Marawi", DAP Gallery Tagaytay
"Unmasked", The Artologist Gallery, Greenhills, San Juan, Manila
"Art In The Park", Makati City
"Sintomas" Travelling Art Exhibit, Cavite
"Art Apart Fair 2017", Pan Pacific Orchard Hotel, Singapore
"Transcience", German Club, Makati City
2016
"Generation Millenial" , German Club, Makati City
"Differences" , Deutsche Bank, BGC Taguig
"heARTistic" – The Attic Gallery Café, Las Pinas City
2015
"Commoneco" – Gourmet Farm At The Dining Room, Buho, Silang, Cavite
"Waves Of Expression" – Museo De Baler, Baler. Aurora
"Bloomerize" – The Attic Mini Gallery, Las Pinas City
"Breaking Ground" – G&C Art Gallery, Molino, Cavite
"Art Attack"- Alabang Country Club, Alabang. Muntinlupa City
2014
"ManilArt 'Crossing Borders' 2014" –SM Aura, Taguig City
"Life Of Dr. Jose Rizal In Europe" – Ontmoetingshuis De Brug,Aalst, Belgium
"Life Of Dr. Jose Rizal In Europe" – Burgplatz, Essen, Germany
"Life Of Dr. Jose Rizal In Europe" – Schaffhausen Tourism Hall, Switzerland
"Life Of Dr. Jose Rizal In Europe" – Museum Of Young Art (MOYA), Vienna, Austria
"Life Of Dr. Jose Rizal In Europe" – Chelsea Gallery, London, United Kingdom
"Life Of Dr. Jose Rizal In Europe" – Palazzo Medici Ricardi Museum , Florence, Italy
"Beautiful Tagaytay On Canvas" – One Tagaytay Place Hotel2014: "ManilArt's Affordable Art Fair" – SM Aura, Taguig City
2013
"Transwing Art Gallery Art Exhibit"- Darmstadt, Germany
''AAP Selected Artists Exhibition''- Adamsom University
''NBI 77th Anniversary Art Exhibit''- NBI Main Office
''Blink'' KABAGANG Group Show- One Tagaytay Place Hotel
ManilArt 2013- SM Aura, Taguig City
''Galerie Y at 20'' – Art Center, SM Megamall
''E…Mosyon Persona''- Renaissance Gallery, SM Megamall
Three-Man Art Exhibit- German Club Makati City
2012
"KUNST- World Vision Pasko Para sa Lahat Exhibit "- Trinoma
"Philippine-Korea Art Exhibition"- GSIS Musem, Pasay
"Kunst Lipa Art Exhibit"- Diamond Hotel, Lipa City
"Boy Rizal Tour Exhibit" – Fort Santiago, Intramuros, Manila
"Pagsanjan Bangkero Festival Exhibition" – Pagsanjan, Laguna
"Kunst Pilipino Art for A Cause Exhibit"- Manila Hotel
2011
" Philippine-Korea Art Exhibit"- Shangri La Plaza, Mandaluyong
"The Beatles Tribute Exhibit II"- SMX Mall of Asia
"JCI-KUNST Paint a Scholar Exhibit", Bocaue, Bulacan
"Philippine-Korea Fine Arts Exhibit", GSIS Museum, Pasay
2010
"The Beatles Tribute Exhibit", GSIS Museum, Pasay
AAP Eksibit sa Kongreso", House of Congress, Q.C.
" GSIS Painting Competition", GSIS Museum, Pasay
"Beatles Tribute Exhibit" , GSIS Museum, Pasay
"AAP Gallery Opening Exhibit" , Luneta, Manila
2009
50th Manila FAME International- World Trade Center. Pasay City
"Men Artwork"- Kamalig Art Gallery, Gateway Mall, Cubao
2008
"Season Break"- Maestro Masterpiece Art Depot, Quezon City
2006
"Mother and Child"- Manila Cathedral
2004
"Joys of Summer" –Shamcey Gallery,Makati City
2003
"Emotions"- Galeria de las Islas, Intramuros
2002
"Expression of Mutual Dependence" –Astoria Plaza, Ortigas, Pasig
2001
"Asahi Exhibition" –Silahis Gallery, Intramuros Manila
Muntinlupa Nat'l Art Competition Exhibit- Metropolis Mall Alabang
2020
Finalist
High Art International Art Competition
Juror's Choice
Tanawin Online Juried Show
2017
Finalist
GSIS Annual Art Competition
2015
Finalist
51st International Eucharistic Congress Painting Competition
2014
Honorable Mention
AAP Open Theme On-the-spot Painting Contest
Juror's Choice
Sino Si Rizal? National Art Painting Competition
2013
1st Prize
AAP 1st Nude On-the-spot Painting Competition
2nd Prize
AAP 'A Tribute To Maegan' On-the-Spot Painting Contest
2012
3rd Prize
AAP Invitational On-The-Spot Painting Competition
Juror's Choice
1st Pagsanjan Bangkero Festival Painting Competition
2011
Finalist
AAP/ECCA Harvest Painting Competition
2010
Juror's Choice
1st Philippine AirForce /AAP Painting Competition
2002
Mayor's Choice Award
1st Muntinlupa National Painting Competition
1998
Juan Luna Award
BSNSH-Annex, Polomolok, South Cotabato
1997
2nd Prize
Water District Regional Poster-Making Contest
1996
1st Prize
Water District Inter-School Poster-Making Contes
He is also known for his portraits, human figurative and landscape paintings that usually carries a message that humans as the stewards of mother earth. Its's their ultimate obligation to protect the environment and conserve the nature; and that one cannot survive without the other.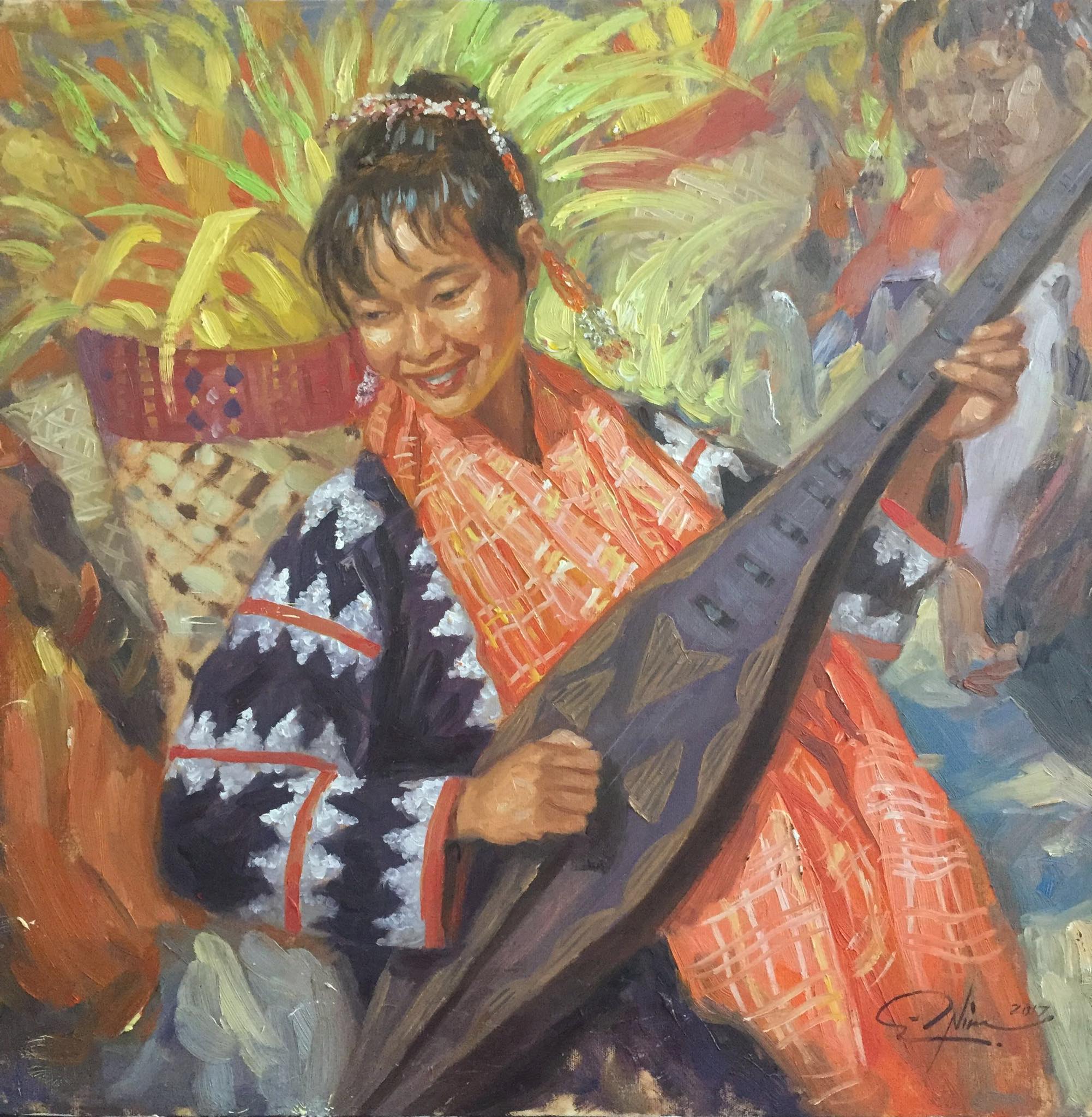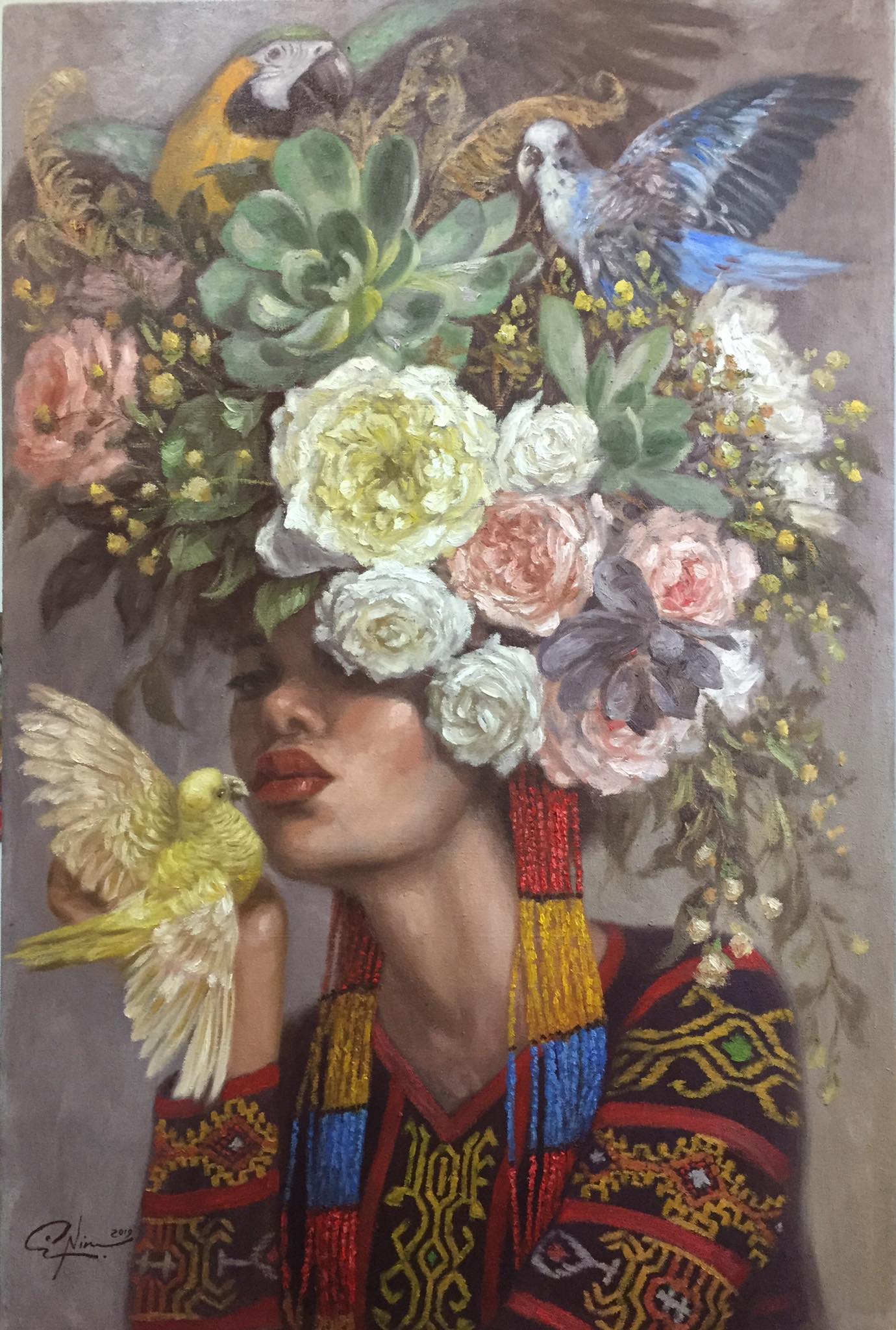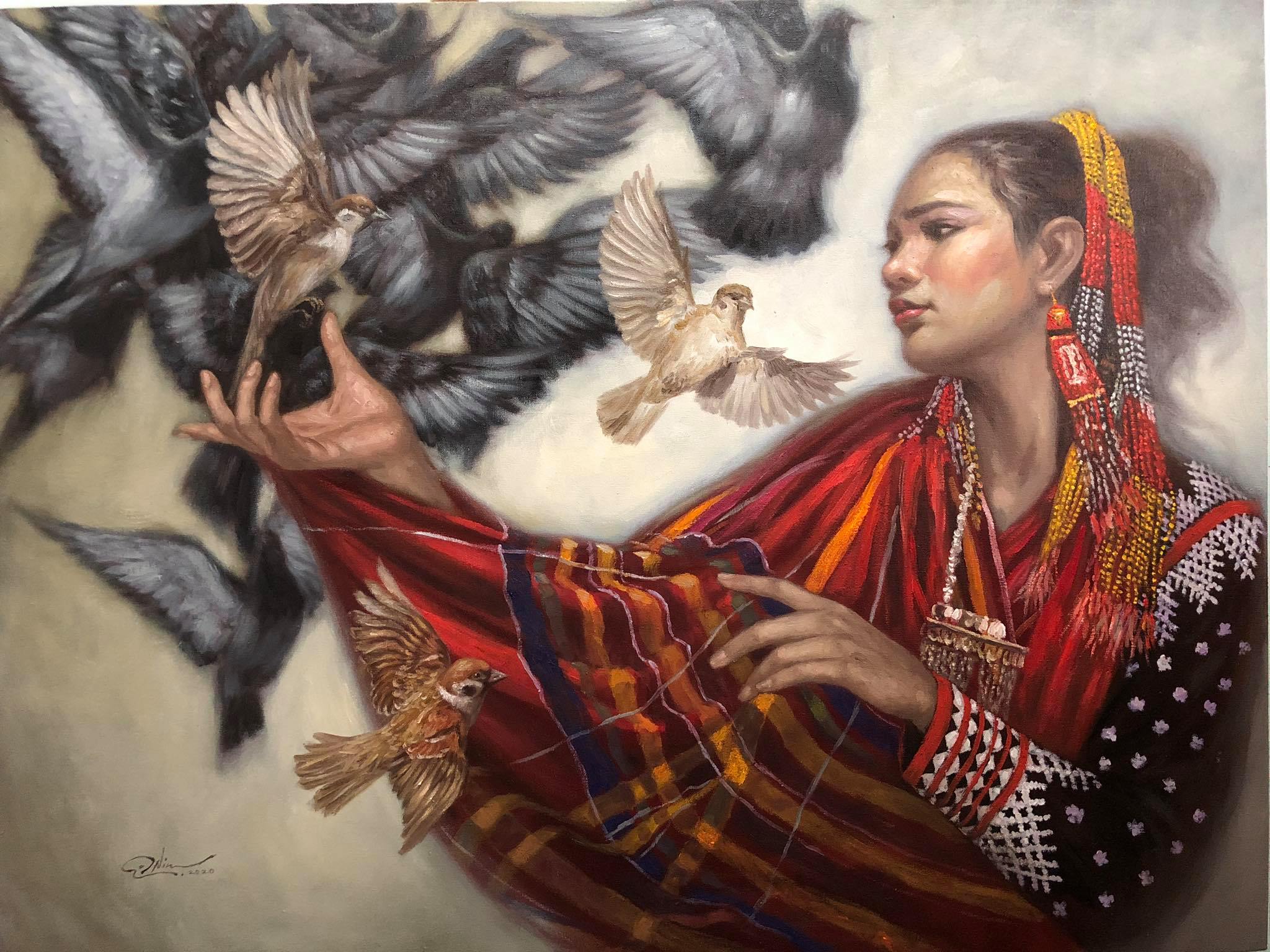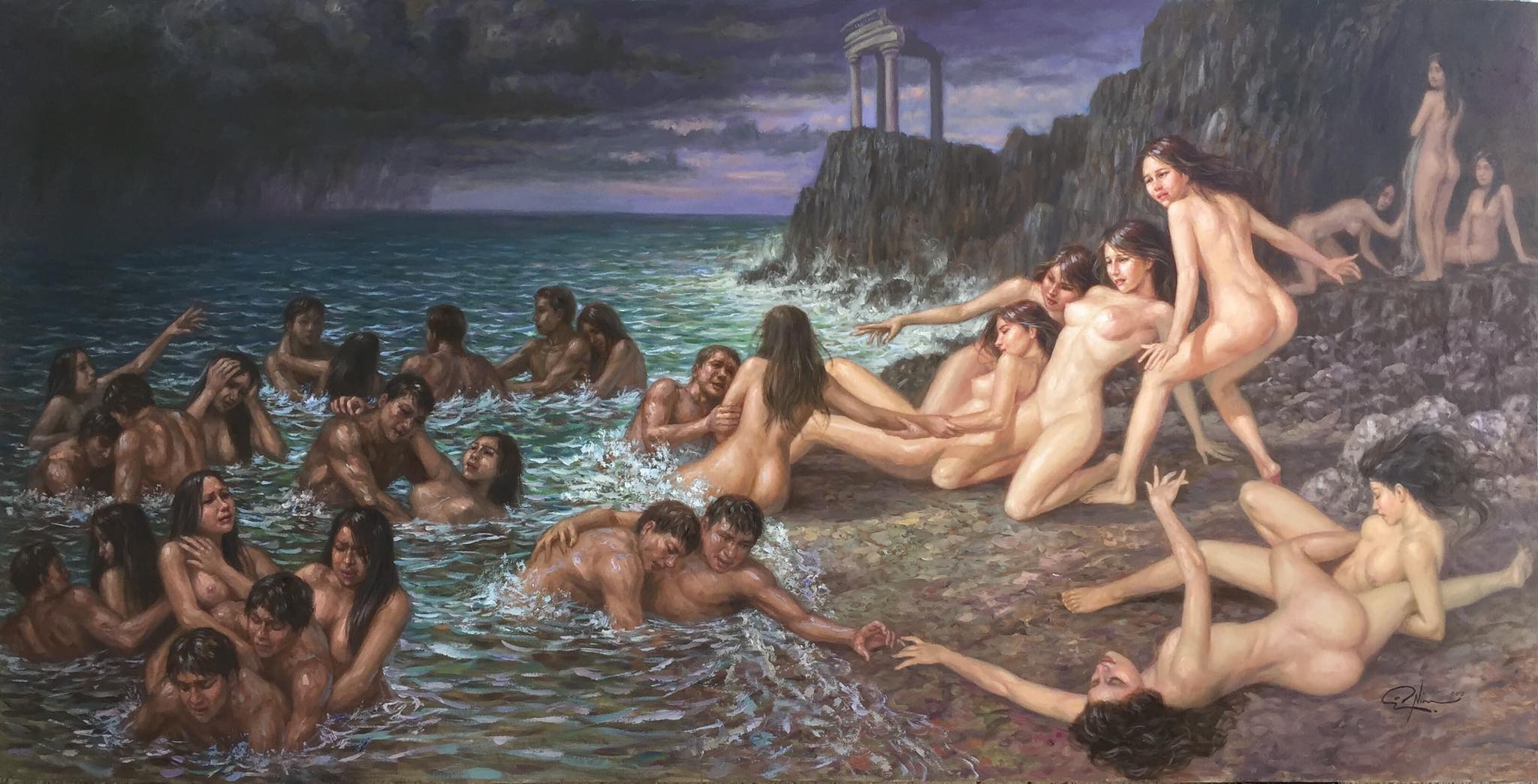 For his figurative art, Emmanuel Nim explores challenging theme's affecting women described as powerful, emotive, and passionate. One mutual desire of Nim's work of art is the human form that unites the tranquil and trancendent portraits toidiosyncratic and surprising life studies. Each paintings offers each own unique style of capturing the human body for the viewer's discovery.
Emmanuel Nim's strives to create the effect of illusion with realistic representation of the images that seem to extend the impression of social reality. For him, the use of the figures was central to his engagement of figurative expressive style. Giving importance to the structure, shape, volume and perspective defined through the chosen colour, tone, light and shade. Nim's work spans in oils, acrylics, watercolour, ink and charcoal.