FILIPINO ARTIST Rigor Esguerra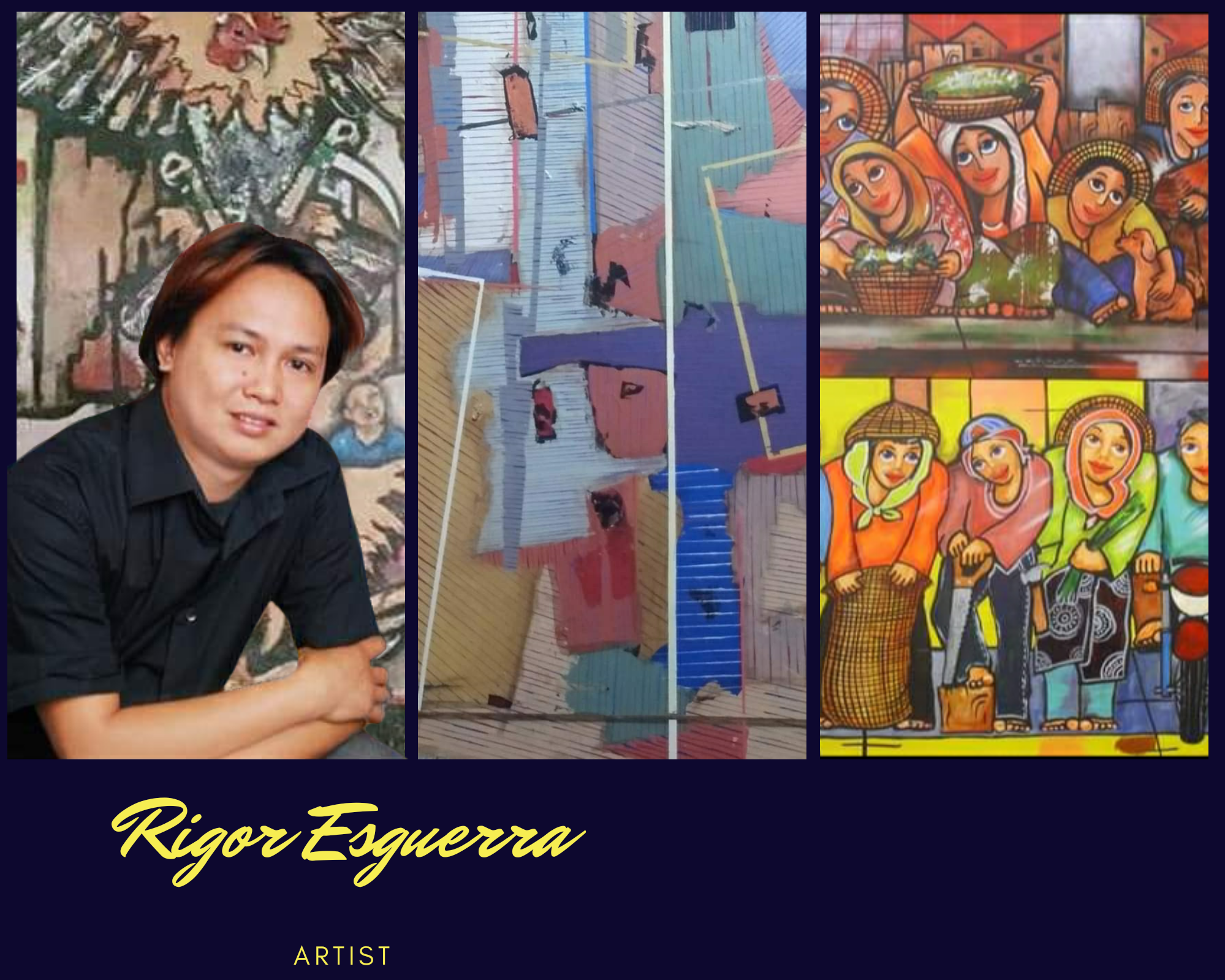 I would like to be called "Don Rigor" because since I was a kid, I experienced a lot of hardship and once in my life I just want to experience what it feels like to be called "Don".
EDUCATION
Tertiary
University of the East (Caloocan City)
Bachelor of Fine Arts Major in Advertising Arts
1995-2000
Secondary
Navotas Municipal High School
1987-1991
Elementary
Tangos Elementary School
1981-1987
Pilaway St. Brgy. Suklayin, Baler, Aurora
E-mail address: rigoresguerra@yahoo.com
Cellphone No.: 0906-528-8496
EXHIBITS:
2020
THE NEW NORMAL, Online Art Exhibition"
Group Exhibit, June 28
"INTELLECTUAL DISASTER"
Group Exhibit at ArtePintura Gallery, White Plains,
Q.C., March 8, 2020
"Baler sa Bagong Dekada"
Group Exhibit at Museo de Baler, Baler, Aurora,
February 15-March 15
2019
"PINASINING Year-End Show"
Group Exhibit at Art Asia Gallery, SM Megamall
Bldg. A, Mandaluyong City, December 3-15
"WISHLIST, A year-end exhibit"
Group Exhibit at Café Tribu, Diliman, Q.C.,December 6
"KULTURA AT AKO"
Group Exhibit at Adamson University Art Gallery Manila,
November 15 – December 13
"UNDECIM MUNDI XI"
Group Exhibit at Art Asia Gallery, SM Megamall Bldg. A,
Mandaluyong City, September 20
"Engkwentro sa Labuyo"
Group Exhibit at Sining Labuyo Gallery, San Pablo City
Laguna, September 7
"PANATA, Debusyon ng Bawat Pilipino"
Group Exhibit at Art Asia Gallery, SM Megamall Bldg. A, Mandaluyong City
April 16-30
"STROKES"
Group Exhibit at Nomad Art Space, Malate, Manila, May
"ART EXPLOSION 2019"
Group Exhibit at Robinsons Place Las Piñas, January 15-30
2018
"UNLIMITED EXPRESSIONS"
Group Exhibit at NPDC Museum & Archive Gallery,
At Rizal Park, December 1, 2018
"AKKAW BALER"
Group Exhibit at Art Asia, 4th Floor Bldg. A, SM
Megamall, November 16 –  30
2017
"ART ATTACK 2017"
Group Exhibit, Alabang Country Club, Inc., June 3-30
"TAREPTEPISM ART EXHIBIT"
Group Exhibit, Vincent Gonzales Art Museum, San Luis, Aurora, April 9
2016
"OBRA FILIPINISMO II'
Kunst Group Show at Art Asia, 4th Floor Bldg. A, SM Megamall,
August 23 -September 6
"GENERATION MILLENIAL"
Group Exhibit at German Club Manila, June 27
2013
"MADS & Master Pieces"
Cultural Center of the Philippines, December 14
"Ngiting Gold Medal"
East Avenue Medical City, February 26 – March 8
2012
First Two Man Show
"Filipinism-Cubism, Modernism, Expressionism"
German Club (Manila), Makati City, January 5 – February 12
2011
"Filipinism-What Makes Art Filipino"
Transwing Kunst Gallery, Darmstadt, Germany, June 19, 20
Ethnology Museum, Vienna, Austria, June 15
Muzee Scheveningen, The Hague, Netherlands, June 9
Chelsea Gallery, London, UK, June 1
Fachklinik St. Kamilus Gallerie, Essen, Germany, May 30, 2011
"Filipinism"
Renaissance Gallery, SM Megamall, Pasig City, April 2011
First Solo Exhibit
"Windows of My Soul" – February 5-19, Bahia de Baler II, Baler, Aurora
AWARDS:
2018
Finalist
AAP On the Spot Painting Competition December 8
Finalist
"No Margin" 2018 GSIS Painting Competition June 8
2017
Honorable Mention
AAP On the Spot Painting Competition
November 30
Finalist
"Pass the Paper" GSIS Painting Competition June 2
2014
Finalist
"Life of Dr. Jose Rizal in Europe" International Painting Competition
July 13
2011
Finalist
"Harvest" AAP-ECCA Painting Competition 2011
Date: December 16
I have three main subjects of my paintings, the first one is "Cockfighting"given that I am a breeder and I like animals, second is "Lines".When I was a child, we didn't have enough money to buy notebooks or art materials and all I have is a piece of an intermediate pad. One day, while I was taking downnotes I noticed that the lines was in patterned with the color Red and Blue. Lastly, the big eyed and a happy smile which represents my fellow Filipinos.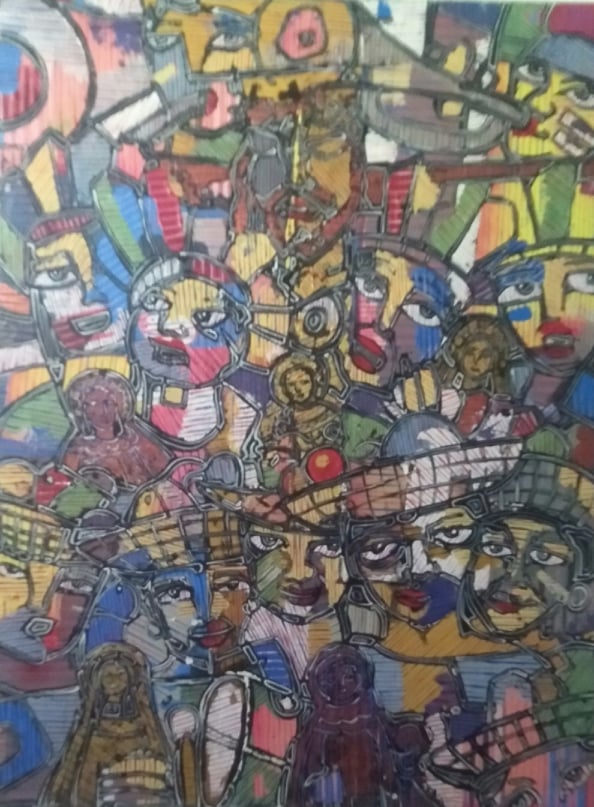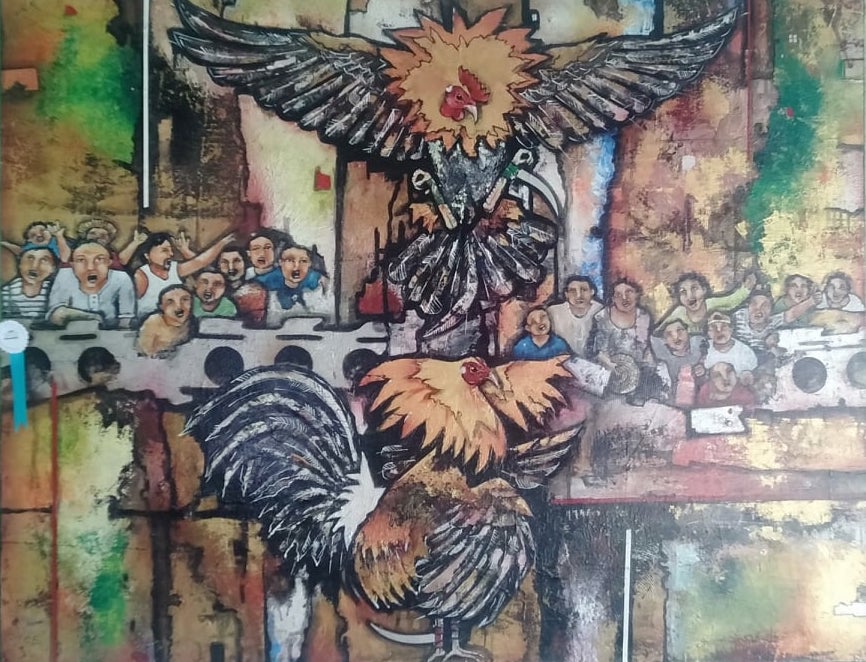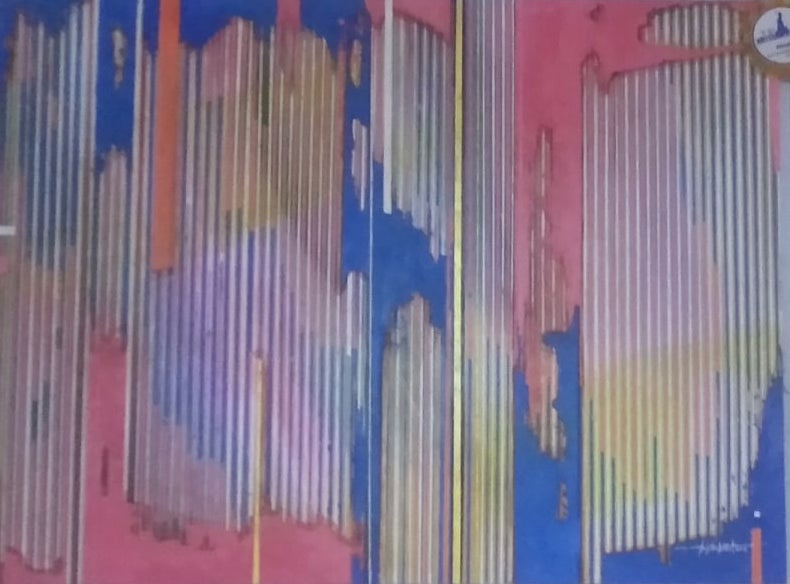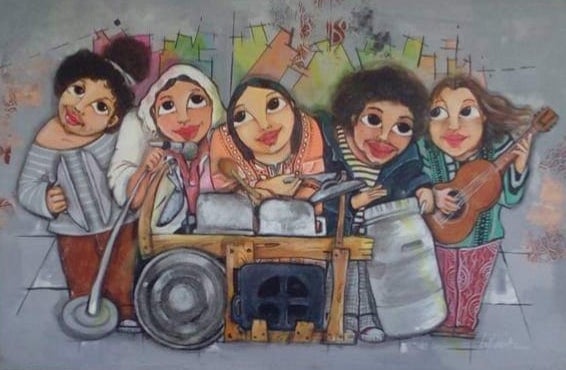 I was inspired by Pablo Picasso and Rene Robles, the two legends in art industry who influenced me the most and of course my family.
An artist of a thousand smiles was inspired by his family and his passion in cockfighting. He started his artworks from his characters to cockfighting and now lines of different aspects. These lines gained distinct recognition from on-the-spot painting contest to national competition. It was also been recognized even abroad